After the success of our holiday eCards benefiting undernourished children in the Philippines, NVC is proud to launch a new set of all-occasion Mingo eCards! These beautiful paintings were made by child artist Lucia Galang when she was just six years old. Thank you, Lucia, for sharing your talent with children in need!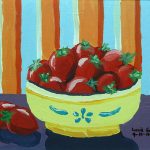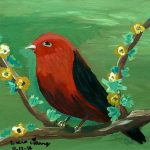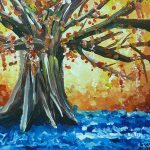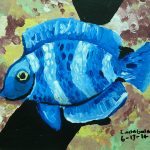 Mingo eCards are Php250.00 (about US$6.00) each. Each one you send will provide
Mingo Meals
to undernourished children enrolled in NVC's Start Right, Live Bright Nutrition Program. Charity eCards make thoughtful, meaningful gifts to special people in your life who have everything, while making a difference in someone's life. They're better for the environment, too!
Send a Mingo eCard now
About the artist
Lucia Galang was born in 2008 in Barcelona, Spain. She now lives in Manila with her parents, Robby and Betsy, and older brother Diego. Her lola, Dolly, is from Bacolod City, Negros Occidental. Lucia studies at Saint Pedro Poveda College where her favorite subject is math. Here's Lucia at an exhibit of her paintings.